>> Monday, October 6, 2008
Ok, so i was totally going to wait until tomorrow to post this card. I'm greatly using up my crafting time this weekend and today and with Gabe's dr's appt tomorrow and then just needing to get caught up around the house, i figured i wont have too much time tomorrow and wednesday. However, i cant get the silly thing to appear right on splitcoast so i'm going to post it here as well.

Here it is...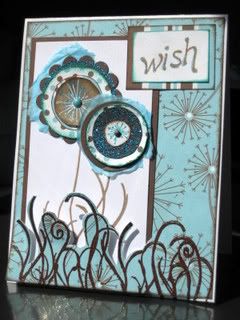 The WCMD challenge for this one was to make nestling circle flowers. And of course i wanted to incorporate the unity stamps so it was a little tricky. I used my very first unity set - Wish. It was a little sad to cover up the "fluffie" tops of the flowers, but i used the wish stamps again in my layering so you still see them. :) I also used the wish grass and used my craft knife to cut around the grass and slip my matted flower image down under the patterened paper.

The patterned paper i used for the card i've been hoarding for a bit. I just love it and i dont ever want to use it, but i am really pleased with how the card turned out!

Here's a closer look at my nestled flowers.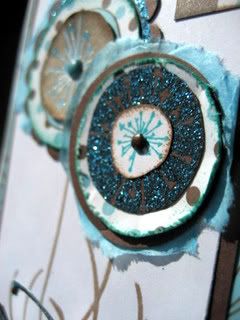 The flowers were created using tissue paper for my back most layer. The other layers are elements of the circle stamp from the wish kit. I embossed brown cardstock with turquoise tinsel embossing powder for part of the flowers. Other parts of the flowers are just circles handcut from various patterned papers from the Pebbles Inc Wish paper collection. Some of the circles were distressed with my TIm Holtz edge distresser and others were inked with Cat's Eye Chalk inks.

Thanks for looking!