>> Monday, October 6, 2008
Phew! I did it! I completed all of the challenges! And now am entered in the drawing for the 3 Unity sets. Which would be so cool to win because 2 of them are HUGE on my wishlist right now! Just not buying things for economic crisis reasons. In other words... my hubby told me no. haha.

Ok, so here are my last cards.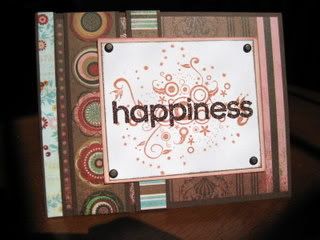 This one was fun to do. I used Hullaballoo. I love this stamp when i saw it. and then i got it, and wasnt exactly sure what i was going to do with it. but i knew i loved it still. This was a perfect way to use the stamp. (and i saw some other great ways thru all these challenges so you'll be seeing this stamp again in the future!)

The patterned paper is by basic grey (the blush collection) and it's layered with Close to Cocoa cardstock by Stampin Up! The ink i used is the new Sorbet by Close To My Heart. Hullaballoo is layered over sweet clush cardstock by Papertry Ink. The happiness sentiment was stamped with versamark and then embossed with clear tops brown embossing powder.


This last card was a bit of a stretch for me. I'm not sure why. I like to make simple cards and this was the limited supply challenge so it should have been easy. but i think my craft mojo had run it's course. haha. The challenge called for no patterned papers and no pastel colors.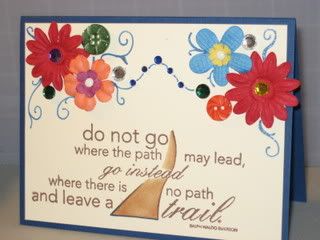 I chose to keep it simple without a lot of layers and use a single stamp (i do love the quote) and then layered some different floral embellishments above the sentiment. The flowers are supposed to create an "arch" like thing over the "trail". I'm not sure if that came across at ALL but hey, i tried. haha.

And now i am just totally and utterly POOPED! It was a very very long day! Of course you'll be reading this tomorrow and not today as i write this. man i love this preposting thing. :) Tomorrow (or today since you're reading this on tuesday) is Gabe's circumcision. Man i feel so bad for the poor guy. He'll be getting lots of extra love so no crafting for me. Maybe wednesday. :)