>> Wednesday, October 22, 2008
I was going to wait and post my Unity wednesday challenge card tomorrow morning for the HIP HOP. But my inspiration for the card stems from today... not tomorrow. So i'm changing my mind no matter how tired i am!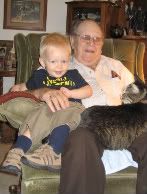 1 year ago today, my grandpa passed away. He was the coolest old cowboy there ever was. Never without his cowboy hat, boots, belt buckle and cowboy shirt complete with your pearl like covered buttons. I'm so very very thankful that i randomly decided to make that fateful trip a year ago last september. At the time i had no idea it would be the last time i'd get to see my Grandpa. He passed away 3 weeks later. And he got to meet Jack. Jack got to meet him. Jack called him Be-pa. No idea why. I know today was very hard on my mom. She tried to put on a brave voice today on the phone. Tomorrow is her birthday. Its times like these that the only way to have strength is to know the person you love is in the best place possible. The Lord is my strength, and that is exactly what this card is all about.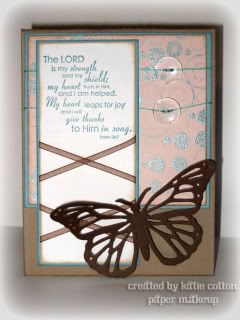 Now to wipe the tear from my eye and move on along to something far more fun. I dont need to go on about how i like Unity, but in case you are just visiting my blog for the first time... check out Unity's BLOG for alllll the details. Tomorrow (or today probably if you are reading this on thursday) is HIP HOP Thursday. Every week, Unity hosts a hip hop in their member forum on splitcoast. Super fun. Lots of chatter. And i mean LOTS of chatter. Prizes given away GALORE. You really really shouldnt miss it!
And every wednesday there is a challenge on the unity blog to gear everyone for Hip Hop. This weeks challenge was a recipe challenge. You just had to include the "ingredients" they give.
1. Use Something clear
2. Use ribbon
3. Use something from your last Unity order.

weeeeellll.... my last unity order isnt here yet. I went in with a friend (who is getting just as hooked on Unity as i!) and had her order giggle grove for me. I've been DYING for it. So i'm getting it. Spending budget be damned! :D But since it's not here just yet, i went with some of the FANTASTIC stamps i won from Unity's World Card Making Day challenge. I'm pretty sure that was the last thing that came to me anyway. When i browsed the stamps that i got... and was thinking about the day today... i thought this stamp from "Something Within" was perfect. My butterfly is a revolution die. I was going to adhere it to some acetate for my clear. But didnt want to fuss with that. But i didnt think my holes counted for clear, so i added clear buttons. They turned out cuter than i thought. Of course one is wonky in the photo and i didnt realize it until after i had uploaded it to my computer. In fact the picture as a whole isnt all that great but i am entirely too tired to care. I desperately need to go to bed! If you notice... i also used the Polka Dot Jam background stamp. I used versamark and then madagascar green embossing powder from Sparkle n Sprinkle. Its my first time using this color and i cant say i'm thrilled. It left quite a bit of blue dust on my cardstock that i tried to brush off with a tissue but it drastically "dirtied" my pretty pink paper. bugger. i was using colors out of a western shirt of my grandpas too. I wanted the colors true to the shirt. *sigh* oh well. The rest of the card i think is pretty self explanatory but feel free to email me if you have questions! Or better yet... come over to the unity forum and find me tomorrow at the Hip Hop!