>> Monday, October 6, 2008
Well, clearly you can see i got a blog facelift. I love calling it a facelift. A tinxmagic called it that and i just thought it was so funny!

I got the idea of the facelift from my super good friend IRL, Beth. She found this site called Cutest Blog on the Block They have lots of free blog backgrounds. So if you're in the market for a new blog design, here's a super cheap way to do it. As in cheap = costs you nothing. haha. Gotta love that. My title banner i just did myself in photoshop. I suppose i could have made myself a whole background in photoshop but quite frankly... who has the time! I'd rather spend my time making cards.

Here's my other card that i made yesterday for the 7 WCMD challenges on splitcoast.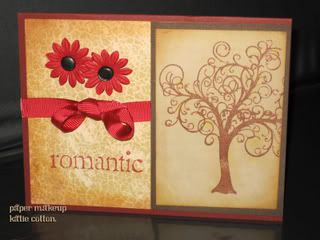 The challenge was to use a tree. Any tree. And since i'm using all unity to be entered in their fantabulous challenge, i conveniently have the tree from Growing in Unity! Phew.

I have disvocered that lately i'm very in to distress inks. I had a bunch, but after that stamp expo i went to a month ago (man it seems so much longer ago than that!) i've sort of rediscovered them! All the edges of each layer have been distressed with the inks and a sponge dauber to get a more weathered look. I stamped the tree in Brilliance Coffee Bean and used my stardust gel pen in red to add my little berries and such to the tree. I then took the clear stardust pen to add just a little bit more sparkle to the tree itself. Of course the stardust pens dont show up in pictures hardly at all, but in person they add a great touch.

I had another piece of cardstock layered over the crackled patterned paper but then i couldnt see hardly any of the crackle so i ditched that idea and added the grosgrain ribbon. I then stamped "romantic" (also from the growing in unity set) in brilliance pearlescent poppy ink and added the primas above the ribbon for a little bit of balance.

Thanks for looking! Now i just have to make 3 more cards today! Which is a very tall order because i have a TON to do today. I really need to hit up Target (pull ups are needed in my house... i'm tired of washing very dirty underwear!), i need to get some stuff ready for the post office, i need to GO to the post office, i have a bridal trial at 5 which i really dont want to do today because that means i have to clean my kitchen and breakfast nook (it's where i do the bridal trials), and there is face painting at the pumpkin patch at my church which i agreed to help with if i get the bridal trial done in time. I'd really just like to do the face painting. With a WHOLE lot of luck, the bride will call me to cancel. but knowing my luck, she'll do that at 4:30 after i've cleaned my kitchen. Still, then i could go to the pumpkin patch at least. This also doesnt include the other cleaning i need to get done. Oh any tomorrow Gabe has to have his circumcision done so all of my errands that i could normall run while jack is at school cant happen until thursday! MAN! What a week i'm going to have! And how unresponsible of me to get the other 3 cards done today. haha. But i'm still going to try! :)