>> Saturday, October 25, 2008


Today I made a tag using Baking Tilda from Magnolia Stamps. And just so you know... Magnolialicious is having a 30% off the newer fall/halloween images. I'm sitting here looking at the screen, hopping back and forth from this post to the store page trying to talk myself out of buying. I'm not supposed to be spending! I think i'm gonna lose.

Anyhoo - now that i've become a stamping fanatic and am slightly addicted to my blog hopping, i see entirely too many cute ideas for gift giving. And because of such, it's impossible to simply give someone a kind gesture anymore. Like, baking someone cookies. SOMETHING would need to accompany those cookies! But this time instead of making a card, i decided to make a tag! I would be terrific to to just tie to the basket or in this case since i didnt have a basket handy, i wrapped the cookies in a simple piece of flannel fabric i had left over from a baby blanket i made a friend nearly 2 years ago! (i'm almost as bad saving scraps of fabric as i am paper and cardstock!). Put your cookies in a plastic baggie first, but then wrap the fabric up and around and it's super cute, without anyone feeling like they need to return your tupperware (or basket).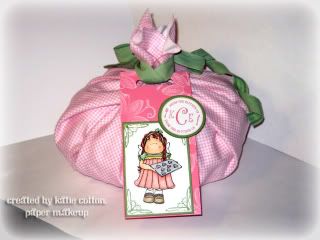 The Deets
Stamps: Baking Tilda (Magnolia Stamps), Wild Daisy (Heidi Grace), Monogram Stamp (Justright Stamps)
Paper: Regal Rose, Wild Wasabi (SU!)
Ink: Regal Rose, Wild Wasabi (SU!), White Daisy (CTMH)

Thanks for stopping in today!