>> Friday, October 24, 2008
Phew - i'm am racing a deadline today! I forgot about a challenge i wanted to enter and as i read Verve Visual's blog today i realized i had a half hour! YIPES! So this card took me 25 minutes in entirety but rather than blog about it and be late... i'm posting... and i'll edit it in a moment to add the drama that ensued to make this card! haha. I might even replace the pictures with better ones!

But without further ado... here is my card for THIS challenge!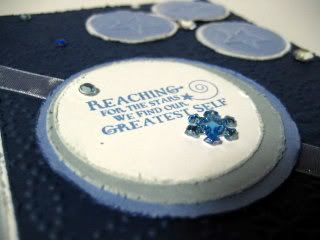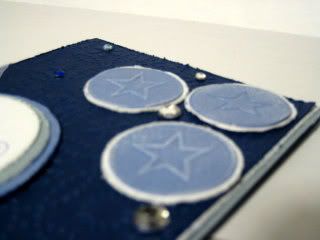 Using Verve Visuals Starlight Starbright set!


OK! Here is were i'm editing... or rather just adding on to my previous post!

So i'm catching up on some blog hopping, reading my dailies and what not. And i come to the time to read Verve Visuals blog. The card for today is super cute. You should check it out. http://vervevisual.blogspot.com/
Anyhoo - on that post it takes about October's Project Parade and her love of embossing. I think to myself "oh yeah, i want to do that challenge!" It sounded fun plus 1 lucky random winner gets 15 verve bucks! And i'm really wanting the Fairy Tales set. which thru the end of Octber is on sale for 10% off as are ALL their sets in honor of Breast Cancer Awareness month. They are also donating to the Susan G Komen organization for each stamp set sold! Ok, that was a shameless plug for them. Onto my cardmaking....
Then as i was reading the blog i read that enteries had to be in by noon today! (which ironically this the time RIGHT NOW as i type this). Holy CRUD! I look at the clock... it was 11:25. I could still DO THIS! i thought to myself. Well, it's amazing i did! THis is how it started.

I race upstairs and think, i have no idea what i'm going to do! Let's start with my verve stamp sets and pick a THEME! So i decided to go with my recently unloved Starlight Starbright set. It's so cute with all of it's sentiments! They are slightly smaller than i thought they'd be given some other sets i have, but it turns out they are Perfect when you just want to add that perfect little ditty to a card! I LUB them.
So i'm going with STARS! What can i do embossing that would go? Could always just pull of the tried and true fav swiss dots cuddlebug folder. It always makes cards look good. but not good enough (why was i worried about how good it would look? I was under a time crunch! but i needed to do Verve JUSTICE!! So i pull out ALL my cuddlebug embossing folders. The stack is about 6 or 7 inches high. HOW TO CHOOSE!! As i browsed i found a star image on one of the halloween folders. Whoda thunk? So i pull that one out. Then i keep browsing and decided to go with one of the winter folders with snowflakes because some of them look like stars. haha. It'll work.
Now i'm usually really good at pouring thru scraps to use every bit. There was NO time for this! I go straight to the new paper section of my craft room and pull some full sheet of blues. And start hacking away at them. At this point my 2 year old has come in and is saying "momma i have some candy now... PUHWEEEEEASE! I ate cereal!" (earlier i told him he could not have cnady he hadnt even had breakfast". So i decide maybe a piece of candy would not be so bad if it gave me time to finish this card. But he just HAD to come wiht me to chose and as i try to race down the stairs he shouts that i need to hold his hand so we dont fall down! Of all the times of my child to listen to RULES!
Ok, so candy is picked and i've come back upstairs. I emboss my images and punch out my stars using my creative memories circle punch. I start to distress all my edges with my TIm Holtz edge distresser left out on my table form crafting yesterday. I love that thing but i also love inspiration that comes from whatever is closest! I scour my chalk ink bin for the azurite blue. WHy can you never find the right color when you need it but it's always on top when you dont?! FOUND IT. Then i'm off to ink up all my edges when in comes the two year old who has stolen my chair! ugh. So i'm standing hunched over my table with my 2 year old blocking my light and asking what i am doing every step of the way and requesting to help. ARGH! i give him some paper and ask him to help at HIS table.
Got my chair back. So i inky up my embossed stars by placing them on my Close To My Heart white pigment ink pad and GENTLY running my finger on the back to just get a little ink. Then i start adhering all my layers. Please keep in mind i have NO layout plan. But i stick them on my card.
Next i take a sentiment that i dont think i had ever used yet from the set (for shame) and stamp it in Bordering Blue Ink from Stampin Up (my cardstock is all those shades of blue from Rich Regals too by the way). And i cut out some more circles using my creative memories custom cutting system with the circle dies.
Something else is still needed... ribbon maybe? I grab my uber cute tin that my good friend Adele made me with samples of ribbons inside. And i chose a pretty organdy ribbon and attached it askew to my card i have no idea why. It's funny the way your brain works when you're no longer even thinking! I only had about 15 minutes left! No the 2 year old is begging for some milk. Pink milk to be exact which i hadnt allowed him to have yet today either (pink milk is strawberry milk as opposed to chocolate milk). I know he isnt going to stop asking until i get it, so we have another race down the stars and a set up on the couch) then i run back upstairs as my time fleets away! I know something else is still missing when i suddenly remember these fabulous snowflake rhinestones i picked up at Michael's a bit back. On the card they go with no rhyme or reason to where.
I snap some pictures of my card, and then baby starts WAILING. I had ignored his mumblings as he started to wake up. Now he was up, hungry and PISSED that i hadnt come to get him yet. So back downstairs i go and bring him upstairs but not before i plug my camera into my computer which automatically uploads any new photos to my computer.
So then i sit back down at my craft table with a pillow and nursing baby on my lap. I'm pretty good at one handed typing i discover. I upload the pictures then to photobucket because i dont dare wait and see how long blogspot takes to upload them. I type up my super quick entry before adding all this mumbo jumbo that you probably dont care about and all of about 3 or 4 people have continued to read (my mom, beth, maybe Rachel and Christi? Ok, maybe adele and jenn too?). And POST! I made it time. But you should see my craft area. It's a DISASTER! my child has gotten out everything under the sun in my room. The baby is still nursing. And then i decide to go ahead and type all the extra bits of crazy that was the past hour. The even funnier thing to me? Is it took LONGER to type all this out than it did to make my card! CRAZY!