>> Sunday, October 26, 2008
Wow, what a day i've had today!!! I woke up and actually thought "you know, i'm NOT going to stamp today!". And i thought i'd dedicate my extra time today to cleaning my craft room. It needs another overhaul. Especially after having so much company after the baby was born (not that i didnt LOVE having them here!) But it's just time to go thru, reorganize, purge, yada yada. Well... that didnt happen today because my day went to you know where in a hand basket! (where the heck did that phrase come from anyway?). I wont even bore you with all the details but it was just ONE OF THOSE DAYS!! I had a bridal trial this afternoon that took me by surprise. I didnt know she was still coming because she only asked if i was free and i said i should be. Usually i hear back from the bride again before she actually comes over. I was please with the outcome of her hairstyle but it was one of the most intricate designs a bride has ever come to me with and her hair was super long and thick! So it took an hour and 30 minutes just to figure out how to get it all up! (and after 6 bridesmaids yesterday with super long thick hair... i'm a little hair-styled out right now!) Today it didnt help any that Jack was being wild and go figure, Gabe is having a ROUGH day and has been fussy and really hungry wanting to eat every hour and a half. *sigh* Other things were crazy too. I wont get into it.

But i'm still going to post something i worked on earlier this week at the Unity Hip Hop.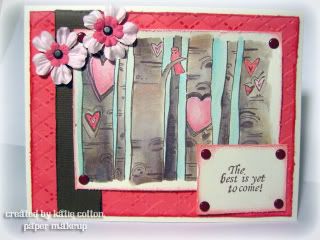 I'm still thinking something is missing. I just cant figure it out. I used my NEW So & So Loves stamp from Unity. I won this stamp along with Two People Fell in Love from the Stamp Challenges blog! If you havent checked out this blog before, you really should! There are some fantastic ideas to be had!
For the card i embossed my cardstock front with the argyle embossing folder by cuddlebug. I distressed all my edges with my tim holtz edge distresser. I stamped my image onto colonial white cardstock with rich cocoa memento ink and then colored it with twinkling h20's. I still need to practice with them. But i'm was mildly pleased with the coloring. My sentiment is from the Simply Said kit from Unity. You gotta love UNITY! (everytime i type unity, especially in caps i cant help but sing the old school Queen Latifah song!).

Ok, thats all for today, simple and sweet. :) With any luck jack will go to bed early (no nap again today) and i will forgo my "i need to clean my room before i craft again" and i will be easing my pain with some craft time. That or i'll go to sleep. hahahaha.