>> Thursday, October 30, 2008
I finally completed this card! I made my sentiment piece days ago but i figured i better get into action to get the rest of the card done so i could finish this challenge on time!!! The rest of the card came together easily... it's just been 1 crazy week!

Ok - so hop on over to OCC (our creative corner). You can see all of the entries for this challenge there. but Julee from Verve Visuals is hosting this week at OCC and her challenge was to use something called "Vintage Values". Thats when you use ink to shade in the edges. She does a superb job of explaining the process on her blog... so i'm just gonna suggest you hop there next. Here's a link to that entry. But let me just say that her card is AUH-Mazing! Really. I was blown away.

Ok, here's my card...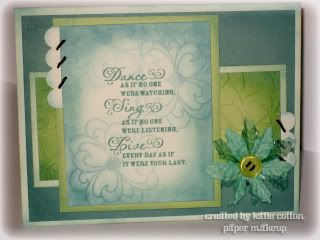 First, i do love how my sentiment piece turned out! I stamped out my sentiment from Verve's Beautiful You set using Juniper ink from CTMH. Then using versamark, i stamped the flower from the same Verve set. Using shimmering chalks (by pebbles ink), I added color to the flower focusing on the petals away from the sentiment. I did still chalk the petals under the sentiment, just not with as much color. Then i used the vintage value technique all the way around using Juniper Ink and Twilight Ink (both close to my heart). The rest of the card i think is pretty self explanatory!!!! My other cardstock choices were sweet leaf and colonial white both by CTMH. :)