>> Tuesday, November 4, 2008
Ok, so i know i said i'd be back with my card for my sketch... but i lied. Well, not entirely. I will be back with that, but i had started this project yesterday and i wanted to finish it (and clean off my craft table!) before i started on a new project. Even though i'm not currently on any design teams, i still feel like i have so much crafting to do this week! WHy? Because everyone has new stamp releases coming out and with these sneak peeks i want them all! And it seems like each company has challenges, and sketches, and prizes to be won! Oh i love it! So, with the recent no spending and use up what i have motto (imposed much more so by my husband than myself), the opportunity to win the stamps means a happier husband. haha. If not, i'm just going to seriously try to work some magic because all these new releases are steller!

Ok, back to my project...

Who says halloween has to be over after october? I had an idea to do something cute with a box and halloween pictures so when i read the All That Scraps challenge for this week (read the blog entry here) i thought, oh this will be perfect!

So i made my pizza box using this tutorial and then used some images from the september CC Designs releases. I colored my little "bat bear" with copic markers and used patterned paper from reminisce.



For the inside i put together a sort of "jacob's ladder" only much simpler. To do this, i simply cut square pieces of chipboard to fit inside the box. I connected them using pieces of grosgrain ribbon. My ribbon does not run down each chipboard square though it looks like it does. I cheated and just used strips about an inch and a half long and glued them to the chipboard using fabritac (which is a super strong adhesive, acid free, but bonds ribbon to paper like cement!). Then i topped each piece of chipboard (front and back) with a piece of black cardstock. Then i decorated each square piece (front and back)

So when you open the box you see this...



And as you lift the ladder (using ribbon i looped on the top piece) you see the ladder of different chipboard squares. Keep in mind there are no photos. Each year i will add the halloween photo from that year. By the time the boys are about 10, it will be full! But i can always add more pieces. The backside will have photos as well. But i wanted you to see the project without photos since i only have a couple of years to put on there for now!
Here's a picture of the ladder...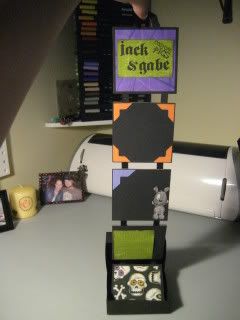 and here's 2 photos so you can see what the ladder (which is removable) looked like.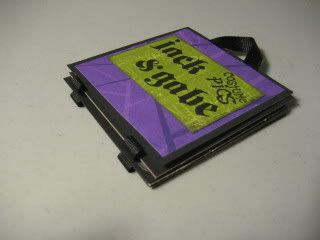 Thanks for stopping by for a 2nd time today!