>> Monday, November 30, 2009
So in a recent outing with my mommy playgroup... we went to a clay cafe. There are lots of them around, but basically you go on and paint on whatever pottery (at a price) and they glaze and fire it for you and then you go and pick it up. I've gone many times, but usually it's to make things with the kiddos handprints or footprints. Or make some other kind of gift item.
Well in my recent trip i did make a couple of gift items, but I also made a coffee mug for ME ME ME! I am overjoyed at my coffee mug. haha. The only thing i wish i had done better was in painting my lettering. Perhaps i should have used stamps! :)
Here is my mug...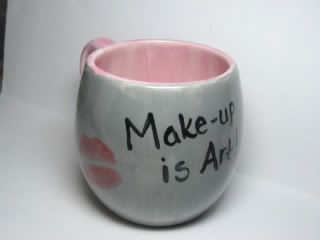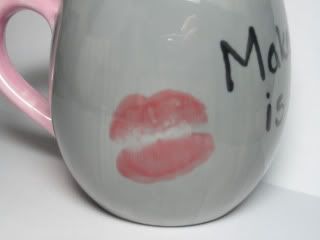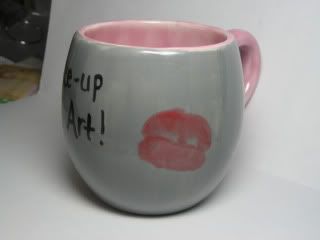 It's really difficult to tell what my mug says in the pictures, but it reads "Makeup is Art!" And yes those lippie prints are mine. My friends sure got a good laugh at me painting my lips with painting glaze! hahahaha. I think i even had video of it somewhere on my computer. It was pretty funny and fun. :) But oh so worth it for my very one of a kind coffee mug! :)