>> Sunday, May 15, 2011
YEEEAH! I love it when my teams coincide together!!!
This round is being sponsored by ME, um, i mean, Paper Makeup Stamps!
Hehehe. I've already had a chance to see what my fellow copic creations gals have some up with and they have COMPLETELY blown me away! If you didnt come over here from there, then you really should check out the
Copic Creations Blog
! PS - PMS is also sponsoring
Thru the Craftroom Door
this week! Read on to read about that challenge!
With the warmer weather moving in (yeeeeah, i'm such a sunshiney type of person) the challenge is to use YELLOWS! This is a super fun challenge because you can really get a variety of looks from using the yellow family copic markers!
Here is my card using the new
Lea
stamp and previously released simple sentiment, Hello Sunshine. Check out all the new releases
HERE
.
I used a variety of different yellow tones on my card.
Here's a closer image that I will break down my color choices...
I also took this photo a bit at an angle so you could see the twinkling h2o's painting on her wings and kite.
Her hair is colored with Y21, Y26 and a bit of my own made up color Y20 though it's pretty safe to say that the new released YR30 looks about the same as my Y20.
Her dress is Y32, Y35 and Y38 as is her kite, bows, etc.
Her wings are YR31 and YR30.
Thru the Craftroom Door is an online magazine run by 2 of my online buddies, Suzanne Dean (also a fellow Copic Creations team member, i heart her!) and Marti Wills. You really should check out their
magazine
for some amazing inspiration! But you don't have to be a subscriber to play along! Check out their challenges
HERE
. The challenge from Thru the Craftroom Door is to use Any WInged thing! Which of course I was able to easily do as well in my card above!
And wait... there is 1 more special announcement...
Paper Makeup Stamps is having a design team call!!!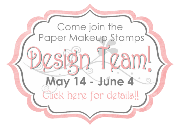 That's right! Check out
THIS POST
to read all about it and submit your designs!
Have a most wonderful day everyone!!!!