>> Friday, December 18, 2009
2nd post for today... scroll down to also see my Makeup for the Weekend challenge from PMS.
OMG! I have an announcement to make! Something that i've been sitting on and not allowed to tell anyone! It's been EATING ME ALIVE!
But today.... today i finally get to tell everyone! YIPPIEEEEEE!
A bit back my friend,
Lauren Meader
, let me in on a little secret. That secret was that she was going to start her own stamp, template and digi paper company!!! I was so thrilled and over the moon for her. Now you may know of lauren's
template designs
for
PaperTrey Ink
. Well, at least you SHOULD know about them because i used them quite often! haha! Well, she decided she wanted to add stamps and things to her designs and start out on her own. I really commend her on her venture! I know (trust me i know!) starting your own company can be a big undertaking. But with her following, I really thought she could excel! And I told her I would do anything I could to help. Well, when I told her that, I thought at most she might ask me on some how do you handing shipping? But no... do you know what she asked me? To be on her design team!!!! Do you know how incredibly honored i felt?! Truly, for one thing it was the first time someone asked me to be on the design team, no call or anything like that. For another, I truly admire Lauren's work and for her to ask ME.... i was honored, flabbergasted, and extremely excited! And then to see the callaber of the other ladies on the team. Phew, i'm going to have to work hard to keep up! Oh, you want to know who these ladies are, do you? Well I'm not gonna tell ya! Nope nope nope, i'm not! You are going to have to go check it out for yourself! :)
I introduce to you....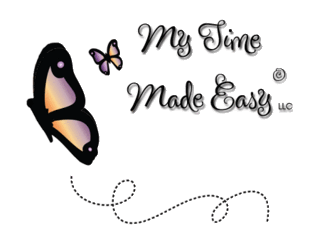 (by the way i made that blinkie...teehee)
My Time Made Easy ©
will have fabulous templates, pretty printable paper and AMAZING clear stamps that coordinate with the templates! Let me tell you, they are cah-ute!
Go sign up for the newsletter and you'll get a coupon to get a free template to try out!
There is also some FREE digital paper for you to play with! There is absolutely nothing to lose!
Ok... and now finally onto my project!
This is Lauren's In A Pinch template.
And YES, i used some of the My Time Made Easy © pretty printable paper! There are so many different color options, it makes completing a project easy peasy! And here's my tip, i only print the size i need! No excess scraps or waste to worry about!
Here is a detail shot of the "pinch" cinched together with some pretty satin ribbon.
And a few from the top! I opted to use a magnetic snap from Basic Grey for easy closure.
And you may want to look closely at that fold line. If you look reeeeeeeally carefully, you'll notice very very tiny dots on the score line. This is because the My Time Made Easy © templates had delicate score marks. This helps keep them ultra concealable. I also sometimes adjust my color settings to make them even more hideable. I'll do a tutorial later on that.
BUT, there is one more HUGE thing to tell you about these templates.... They will all be available as SVG files as well! What does that mean? If means if you have a cutting program like Sure Cuts A Lot, you'll be able to just click CUT and it will cut it all out for you and leave teeny tiny tick marks for your score lines. Yeah, i'm excited about that! Can you imagine how quickly you can make gifts! Once i've played with the program (i'm a newbie!) I will let you know all about it!
Ok, just one more detail shot for you since i know this post has gotten amazingly long (can you tell i'm a little excited??)
I hand stitched those little beads onto the dots. Yeah, it was a labor of love. It was the ONLY long process about this project! Since this is to be gift packaging for a friends birthday present (hence the big R on the front of it!), and I was also gifting a handmade necklace, I wanted something to tie the 2 ends together. I had some leftover small beads, and this seemed like a fun way to intertwine the 2.
So thats my fun new announcement! Keep posted for some more projects! The first official release (including stamps!) will be in early january! Of course I will keep you posted on that as well!
Thanks so much for stopping by today! Don't forget to go to
My Time Made Easy ©
to check everything out!!! And go to
Lauren's blog
for all the details of this fun announcement!