>> Saturday, June 7, 2008
First of all i wanted to say.... This weekend is the Spring into Summer crop over at SwapsNMore! Dont know what swapsnmore is? I havent been doing my job. It's a swap site of women who love to swap! And we scrapbook and card make and chat a lot too. I'll be teaching some tutorials this weekend for the crop. If you are interested in joining the group, go to
http://groups.msn.com/swapsNmore/general.msnw and click join. You will be approved shortly and then can start cropping to your hearts content!

Ok - on with the show....

Do you ever like the idea of using a diecut on your scrapbook page or swap piece but then think it just looks too... BLAH! I agree. I'm not very big on the 1 dimensional aspects of plain ol' diecuts. I do however, think they can be FABULOUS with just a little bit help. I like to chalk to shade the diecuts. It's kind of like doing makeup to me! :) All you need is a basic set of chalks and a little know how of highlights and shadows and you can chalk away!!!! I'm going to show an example of a dinosaur (that i actually used in the dinosaur swap on swaps n more a bit back)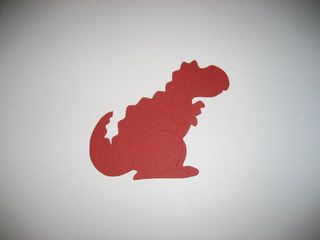 First i started with a plain ol' diecut. This little cutie i cut with the Paper Dolls cart from my cricut. Pay attention to those lines that were cut in the dinosaur. They'll help you with shading later!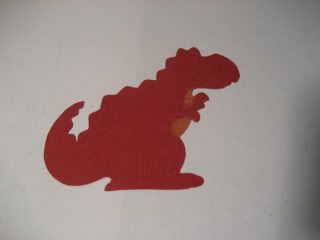 Next i chalked his belly. Now i could have cut the dino out in another color, cut his belly and glued it on top like a paper piecing. That would have worked just fine and in some diecut cases, i do a paper piecing effect. This time, i kept to all chalks so you could see everything you could do with easy. I just took a different color chalk (in this case yellow) and chalked up his belly to make it appear a different color. Easy Peasy.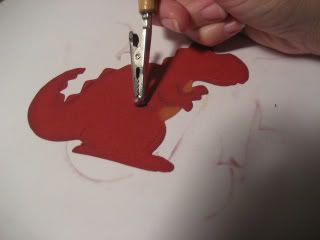 Next i did all of my shading. This is what really makes the diecut look 3D. Follow those lines that were in the diecut. But also shade the areas "where the sun don't shine" like under his tail, feet, chin, etc.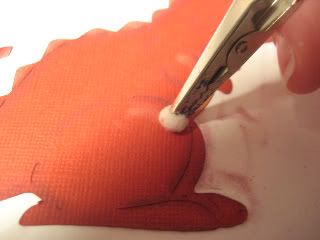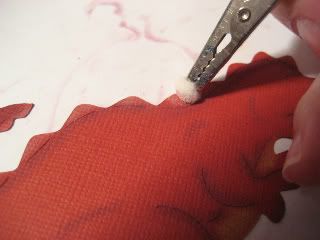 Now it's time to add your highlight. You can use white (i did in this case) or a much lighter version of what the color of the diecut is. Normally, the white is my first choice. To highlight, you will use the white on the tops of where the sun hits. This may not just be the top of the head! I chalked the dino's scales down his back, and head, but also the tops of his thighs, arm, etc.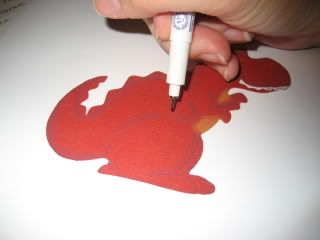 Next add in the little details. I take a (normally black or maybe brown) pen and go over those "cut lines" from the diecut to make sure they are going to stand out. Most of the pen work won't really show up in the lines, but it will be just the little extra oompf you need. This might not be needed at all on a diecut on a lighter paper color to begin with, but for my red dino - it was needed. I also blackened in his eye so it could be seen better, etc.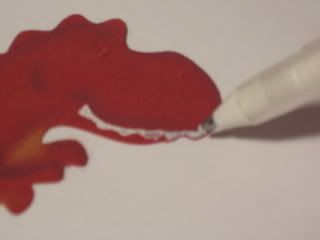 Another detail for me was the dino's teeth. Chalked them white didnt make them look any different than the other highlights on the dinos skin and most dinosaurs i know of dont have red teeth. Ok, so i dont know many dinos... but i still didnt want him to have red teeth. So i took a white gel pen (this one was actually a white souffle pen by gelly roll) and colored them in. Gel pens work great for coloring in on darker cardstock!

And drum roll please... here is my finished diecut!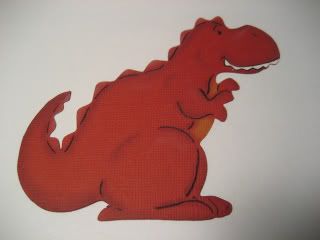 Hope you enjoyed this tutorial. Its a great way to make some elements for your scrapbook pages and cards. Diecuts are cheap, chalk lasts you eons and they really stand out on a page or card!

Thanks! Feel free to leave comments or ask questions but if you do make sure to leave your email so i can respond back!