>> Wednesday, January 2, 2008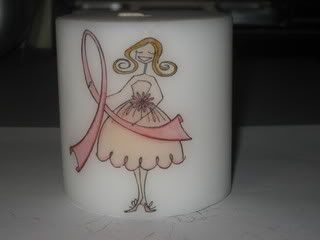 This super easy technique makes quick and stunning gifts and the possibilities are endless! Here's what you need...

* Stamp(s) of choice
* Ink pads of choice (if coloring in, use a good black ink, i prefer versafine in black onyx)
* Markers (optional)
* Tissue Paper (just the gift wrap kind)
* Wax Paper
* Heat Tool
* White or Ivory candle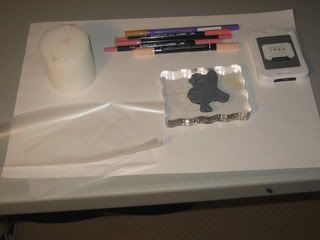 Your first step is to stamp your image onto the tissue paper. It is important to have a scatch sheet of paper underneath your tissue paper as color will bleed thru to your work surface.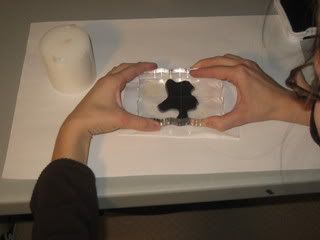 Next you will add any additional coloring to your stamp (if desired). I will note that the stamp i used is Causabella and you can pruchase this stamp at www.stampingbella.com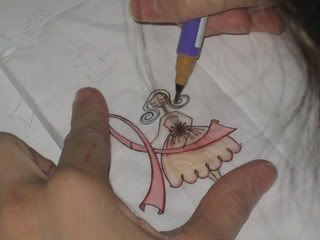 Now trim out your stamped design (it does not have to be perfect or right on the image, just be sure that your tissue paper is not larger than your candle).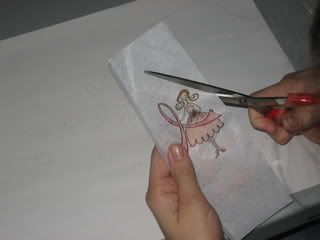 Lay your cut image on your candle.



Cover the entire candle with wax paper and pull tight. You do not want air bubbles in your design.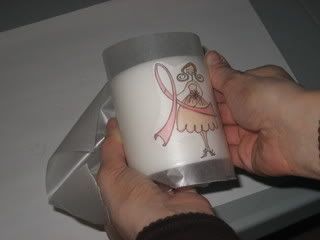 Heat covered candle with your heat tool. I recommend moving your heat tool in circular motions as to not overheat any one spot. You will see your tissue paper start to "disappear" into your candle.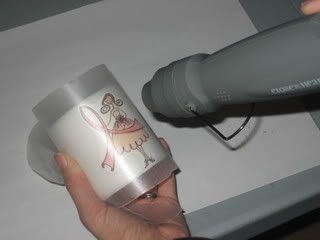 Peel off your wax paper and Viola! Your stamped candle!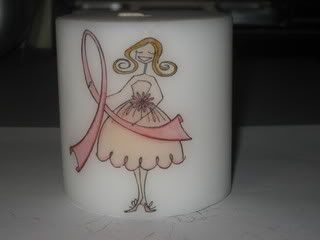 In an alternate version... you can cover your whole candle using a strip of tissue paper. Be sure than your strip is not wider than your candle.
Stamp all over your tissue strip. Layering colors looks very nice...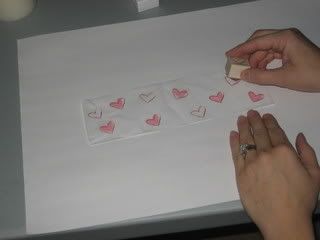 Wrap entire strip around candle.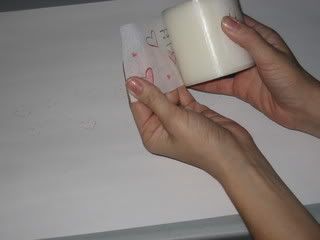 You will have to heat the candle in sections. Be very sure that your tissue paper and wax paper remain flat against your candle otherwise wax will pool on your candle giving a lumpy appearance after you peel off your wax paper.

(stamps used for this candle are by Stampin Up!)

If you complete this class i'd love you to share your finished creations! Please post the link to your candle in the comments section of post!



* added note * it was brought to my attention that credit was not given where credit was due. I learned this technique from my friend, Rachel. She showed me how super easy it was one day at her house. I decided to make a tutorial to show some of the gals in a online swap group i am in. I did not create this technique on my own. And in fact, I believe my friend learned of this technique off of Splitcoaststampers.com (which is a fabulous site for techniques and tutorials by the way!). Unfortunately, i do not know who the original creator of this is, but whoever they are, they ROCK!