>> Sunday, January 13, 2008
Ok, so i havent posted on my blog, but i've definitely still been crafting away! My internet was down for a few days and while i tried to sneak in on my neighbor's wireless... it was very slow. So i didnt too too terribly much online. Anyhoooo - here are some cards i made for the final bella challenges on splitcoast! All those who completed all the challenges then get put into a drawing to get a bella Identifiah and i love love love those so i'm hoping to win! Wish me luck! :)



this one the photo isnt so good. My lighting was a little dim. The cutting out of bella and her fella was decided quite by accident. While using one of my new markers to color in her bag (it was the LAST thing i had to color mind you) the marker just gushed out ink everywhere making this big puddle on my cardstock. I gasped, screamed, blotted, to no avail. So i decided to cut everything out. It didnt end up being any faster than recoloring, but i think the end result was fun and different though i wont be doing it for every card!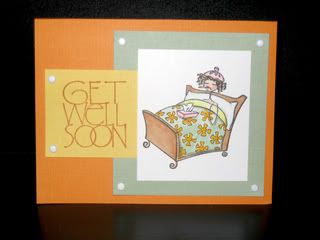 this was for a sketch challenge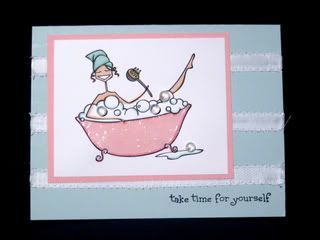 this one was for a color challenge and i love how she turned out. The colors to be used were light blue and white with any accent color of our choice (mine being pink because i thought every bella should have her own pink porcelain tub) I applied liquid glass by close to my heart on top of the tub to give it a shine and applied bellas baubles over some of the bubbles. A special shout out goes to my bella sister for surprising me with a package with bubblebella and the baubles inside (as well as topiary bella!)

And now my challenges are complete!